Welcome to Crest Consultants AB!
The philosophy of Crest Consultants is to provide cost-effective consulting services, specialized to the marine and offshore business, with customer needs in sharp focus.
The company believes in long term relationships with its customers since we know that the project will run from the first sketches until approved final documentation.
We know the importance of a supportive supplier that helps you all the way, regardless of whether the project is long and complicated or small and needed to be done today.
After the project, during operation, you will find all the technical support that is needed right here!
---
Latest News
2018.12.02 - Crest Consultants assists in "Delivering Dreams"!

Tillberg Design of Sweden is a world leading design company for luxury cruise ship, hotel and restaurant interiors since 1964.
The company has 115 architects and designers located in studios in Höganäs, Sweden, Wroclaw, Poland and Miami, USA.
Tillberg Design of Sweden design award winning creative environments that are cutting edge contemporary as well as timeless and classic.

Crest Consultants has the great pleasure assisting with long term project management towards a high-profile, cruise industry client.






2018.10.28 - Are You ready to develop future marine solutions?!

Crest Consultants AB is expanding and looking for driven co-workers with different areas of expertise.
We are now recruiting within the following disciplines:
- HVAC
- Marine Systems / Process Engineering
- Naval Architecture
- Structural Design / Analysis
- Project Management / Engineering Management

Are You looking for a new challenging opportunity in a fast growing engineering company and would like to know more?
Please contact us at career@crestconsultants.se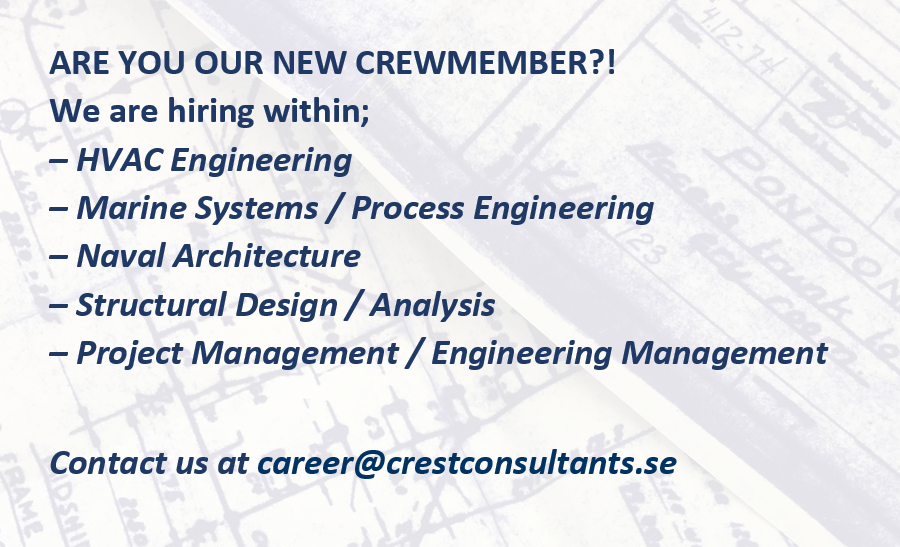 ---
Crest Consultants AB - Första Långgatan 22 , 413 28 Gothenburg - info@crestconsultants.se - Org. 559069-4948 - VAT SE559069494801 - Copyright